We design and implement a Social Media strategic plan for your company, setting some short-term objectives
Brand positioning, increased visibility, customer loyalty, promote sales and transmit new ideas and concepts to the market, things that will directly lead to more visits, followers and increased sales.
Proper management of social networks for your company is vital.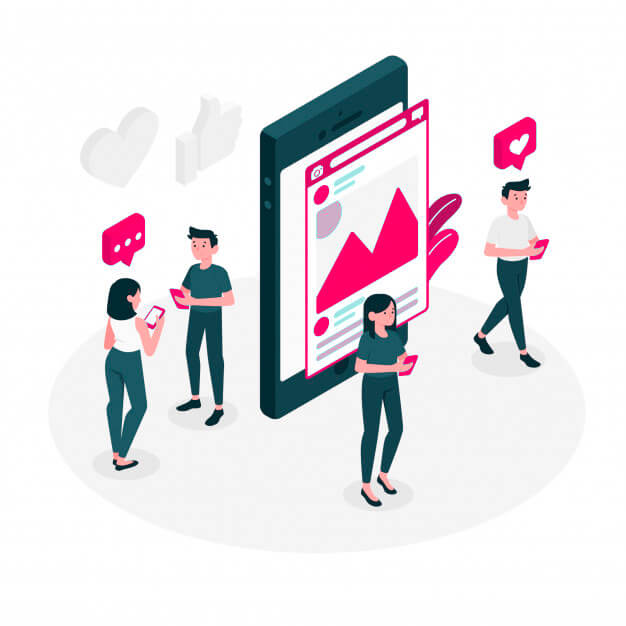 In the social media department, our digital specialists dominate the ecosystems of each of the existing social networks to become the speakers and promoters of your brand and build meaningful audiences around them.
As a specialized agency in Social Media, we dominate communication and content creation to strengthen corporate branding and transmit a story that reflects the values of your company. Promote products and services, create new recruitment actions is part of a marketing strategy based on a Social Media Plan where we set achievable objectives and define the corresponding KPIs.
The main responsibility of the Social Media department is the daily management of the brand's social networks within the corporate digital marketing strategy. Design and execute a specific content plan by social network that brings authentic value to users and enhances business branding. Increase online visibility of the business by building real relationships with the target audience, engaging in conversations and ultimately being a useful and valuable support for your audience.
The idiosyncrasy of each social network is unique and requires a certain understanding and behavior. In addition to an exhaustive and updated follow-up since the changes in the sharing of social media is constant.
Social networking: LinkedIn represents the professional social network par excellence where engagement with the audience is obtained through content clearly aimed at providing professional value. Different but related is Facebook, a social network that combines leisure, information and commercial content that companies from many different sectors take advantage of to develop their digital strategies.
Microblogging: Users of social microblogging networks have specific needs. We can identify them through the hashtags and trends of the moment. The Twitter audience seeks real-time information on the people/brands/information channels that interest them. If we want our followers to share our content and generate likes and comments, we must know exactly what content is attractive to them and use a corresponding writing style and very summed up.
Photo sharing: Images and photos raise passions on social networks such as Instagram, Pinterest or Snapchat. They are constantly evolving social environments, especially Instagram. In a Social Media agency such as Webbing, our communty managers dominate all their applications and make the most of their performance to grow the community of followers in each social area and get more engagement.
Video sharing: Whenever possible, an appropriate Social Media strategy should include a presence on YouTube. As the second largest search engine in Spain, branding, sales and brand positioning can benefit from an attractive content strategy. The video is the star today and we will surely find part of our audience following Vimeo, Youtube, Facebook Live or Instagram TV channels.
We have already talked about the positive impact that good social media management has on your company's branding. The perception that users extract from the contents and style of your media will contribute to the trust they place in your brand.
Social networks are the most direct way of communicating with your clients or future clients in this new perception of the human relationships we live through technology. An action available to us in social-digital environments is highly segmented advertising campaigns to impact your target audience. Proper maintenance and management of corporate social networks consists of conversations. Talk and listen to the audience without intermediaries to get to know her better and discover her tastes, interests and behavior. Also to discover mainstream trends and know what directions your target undertakes.
Another great help that social media provide us is that we will find in the knowledge and control of competition. Analyze their strategy, actions and be able to adapt to it if we consider so.
Why do you need a social media strategy?
The target audience of your business is in social networks. Only in Spain there are more than 70 million profiles and pages created on the different social platforms.
A social media strategy based on a previous social media plan is essential to build a strong and solid online organic presence of your business. Consistency and a successful content and publication strategy are required to consolidate audience growth.
Main functions of social networks:
Customer support
Sample of products / services
Promotion and display of offers
Programming of publications
Track your target audience
Branding
What do our services include?
Creation of the Social Media Plan and strategy
Study of competition in RRSS
Delivery of the style guide
Define objectives with the client
Profile creation and optimization
Design and creation of advertising campaigns and analysis of the results
Identify business opportunities
Management and daily monitoring of social profiles
Editorial content calendar seeking maximum engagement
Strategy based on key KPI's established
Reply to followers and monitor the brand
Creative design in different formats: image, infographics …
Performance monitoring according to KPI's
Growth hacking: organic growth of quality followers
Publish content in the different social networks established in the digital strategy
Get a Social Media strategy adapted to your needs
Aida Caba
Communication and RRSS expert
"Your social networks do not have to be, they have to differentiate. And make this difference your success."
Frequent questions
They are a fundamental part of any marketing and communication strategy because the objective target of most professional sectors has profiles in social networks.
It will depend on a good initial strategy and the objectives that we want to achieve. There are many points that make social media marketing really effective; own and quality photography, design that provides added value, branding, ads, etc.
With good planning and strategy design, social media marketing is a very effective tool to achieve the objectives.
A team of digital marketing professionals committed to the success of your business and characterized by their technological knowledge, specialization, empathy and sense of responsibility. With criteria and aesthetic sense.
A social media manager is responsible for creating, designing and managing the corporate strategy in social networks, while the community manager is the person who manages daily the activity of the different social networks of the client.
Other digital services we offer